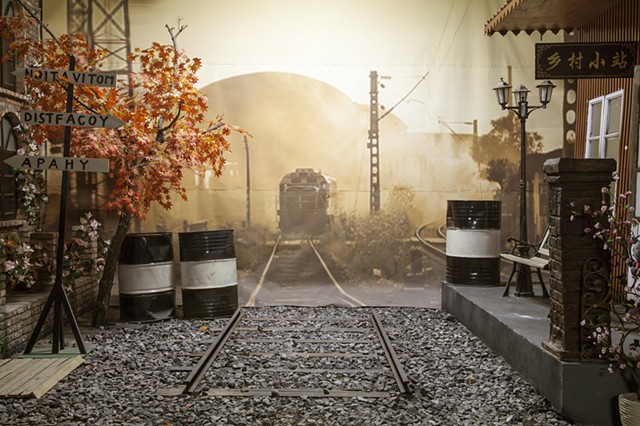 NEWS
A new iteration of For the Gods will be exhibited at the Christensen Gallery at Augsburg University April 22-July 31, opening reception April 22, 6-8 pm.
Stop by Rosalux Gallery to see my show For the Gods, along with Betsy Byers' show Remnants, opening reception February 3rd, 7-10 pm!
Edge of Humanity Magazine published a feature on the project Making Mona Lisa on January 18th.
New images from Bangalore, India included in F-Stop Magazine's group exhibition Street Photography.
Amateur Photographer (UK) gave my book 5 stars!
Newsweek Japan did a 4-page feature on Impossible Is Nothing in the July 18, 2017 issue!
Check out this feature at LENSCRATCH Fine Art Photography Daily about Impossible Is Nothing.
An interview with L'oeil de la Photographie about my new book!
A review of Impossible Is Nothing on aPhotoEditor.
An image from Impossible Is Nothing is the PDN Photo of the Day.
I was Alicia Eler's guinea pig for her new blog Artcetera for the Star Tribune.
A Daylight Digital Feature about Impossible Is Nothing: China's Theater of Consumerism.
I've donated two images from a series of portraits taken at the Karmel Mall in Minneapolis to ART x RESIST! Please check out the site and support your favorite organization.
My first monograph, Impossible Is Nothing: China's Theater of Consumerism is in production and will be distributed by Daylight Books this May 2017! The Kickstarter Campaign has been successfully funded. Thanks to all who made this possible! You can still visit the Kickstarter page for more details and a video about the book.
Images from Impossible Is Nothing will be featured in the December 12-18 Instagram Residency for the Humble Arts Foundation.
Images from Impossible Is Nothing are featured in the December/January issue of F-Stop Magazine's Open Theme group exhibition.
Impossible Is Nothing is featured in Hypertext Magazine.
Concordia Photography Biennial: The Art of Teaching opens September 6 at Concordia Gallery in St. Paul.
SUMMER OPEN STUDIO AND SALE this weekend, August 13 and 14!!!
The Golden Hour will be on view for the premiere season of the See 18 Film Screening Room at the Minneapolis/St. Paul International Airport (MSP) in Concourse C, 2016-17.
The Seamless project is included in the three-person exhibition It's so hard to live without you (with Victoria Crayhon,US & Karolina Jonderko, PL) in the Helsingborgs Dagblad's Photographic Salon at the Landskrona Foto Festival in Landskrona, Sweden, August 19-28, 2016.
Works from Making Mona Lisa are included in the exhibition North of the 45th at the DeVos Art Museum in Marquette, MI, June 3-August 7, 2016.
The Golden Hour is featured as a video short in Experimental Cinema: Pixels in the Minneapolis International Film Festival 2016, screening at the St. Anthony Main Theater on April 15, 2016.
Somewhere (Else), a dual exhibition with Shannon Estlund at Rosalux Gallery in Minneapolis will be on view April 2-25, 2016. The Opening Reception is April 2, 7-10 pm.
A photograph from Seamless is included in the Humble Arts Foundation online exhibit Winter Pictures: Group Show 48.
Seamless is featured in Hypertext Magazine.
A photograph from Seamless is included in the RSA Open Exhibition 2015 at the Royal Scottish Academy Gallery, National Galleries of Scotland, Edinburgh, November 28, 2015 through February 14, 2016.
A photograph from Seamless is included in Circa Gallery's 25th Anniversary exhibition This From There in Minneapolis, MN on view November 7 through December 5, 2015.
Works from Making Mona Lisa are included in Photography Since the Millennium an exhibition hosted by the Carnegie Center for Art and History as part of the Louisville Photo Biennial. The exhibition runs October 9, 2015 – January 9, 2016. Opening Reception: October 16, 6:00-8:00 pm.
The Golden Hour, a video made in response to, and exhibited with, the painting Sunset, Shady Valley, by George Bellows in Art Inspiring Art at the Hillstrom Museum of Art in St. Peter, MN, September 14 through November 8, 2015. Opening Reception: September 14, 7-9 pm.
A solo exhibition of Seamless will open at Living Arts as part of the New Genre XXII Festival in Tulsa, OK on September 4th and will be on view until September 24th, 2015.